In the previous "Envoy Updates" article – Building a "Better" Soft Phone, Part One – the feature set of the new VEXIS Envoy® Soft Phone (ESP) was being described and (when possible) compared with the feature set available from most softphone vendors. So far, the topics covered – Event Driven (push model), Event Subscription, Event Actions, Custom Data Integration, and Event Multicast – have centered on backend system data integration and unique ESP performance enhancements through event handling optimization techniques. Now let's have a little fun and get to some visual and business considerations!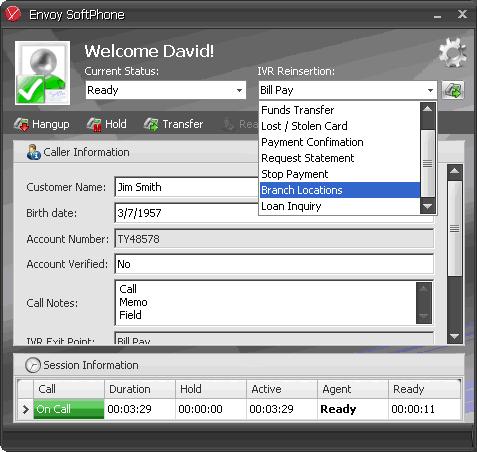 Look and Feel – The user interface of ESP is informative yet uncomplicated. All the call control buttons are grouped together on a tool bar. All controls are in plain sight and intuitive; the concept of "least number of clicks" was a big part of every design consideration as well. One location dedicated to "Session Information" gives the user a view of the current call state, agent state, and all important timers. A single location is used to set the agent mode as well as AUX codes. AUX code, agent mode, and logout codes can all be centrally configured to have custom labels on per agent or agent group level. Speed dial lists (personal, group, and global) can be centrally managed and are shown when the agent needs to dial to allow one click access to numbers in order to save keystrokes. An optional IVR reinsertion list is available to make more efficient use of agent time and lower the average talk time which equates to real dollar savings. Not to mention the fact that you can make your agent desktops reflect the corporate image you would like because ESP can load any number of "out of the box" skins and can even load custom skins designed by your company.
Dynamic Call Data Display – In addition to ESP having great data integration / aggregation capabilities through Envoy® Server, the display of call data (data associated with a call as it progresses through the enterprise) on the ESP user interface is very flexible because the display is dynamically generated. This is a key advantage ESP has over many competitors because this capability keeps the agents efficient and informed and at the same time keeps money in your company's bank account – a "true" win-win! Anytime a business (or regulatory) requirement comes along where the agent needs a new piece of data – there is a tough decision to be made – either train all of the agent on how to look up that new piece of data or else pay your CTI vendor to modify the softphone to display the new data; both options are time consuming and expensive. ESP can immediately show the new data after a single database update! No softphone code modifications required! No training on a new system to find the new data! The new piece of data shows up in the same application (ESP) that the agents are already using to take calls and assist customers – it just does not get any better or easier. The dynamic data field display of ESP can not only add new data fields, it can re-order them as well through the use of a field priority setting.
Data Type Aware Data Fields – A "really cool" (and from what we can tell very unique) feature of ESP is "Data Type Aware" data fields. The field that displays on the user interface of ESP "understands" the data type it represents and an inline, context specific field editor accommodates the user by "popping up" when the field is entered. For instance, if a field represents an unsigned integer, the field will only allow input of numerical, positive, data that is limited by the constraints of the max allowed positive 32 bit integer (and a "spinner" – to make effective use of the "up / down" arrow keys – is displayed. Likewise, if the field displayed in the user interface of ESP represents a date, only valid date entry is allowed (months 1 through 12, etc) and a calendar control pops up to assist in data entry. Wow! Couple dynamic display of data fields "on the fly" with data aware data field controls and your database administrator is going to be able to sleep at night even when changes are put in place because data integrity is kept intact!
Let's revisit the original questions presented in the previous article… does that soft phone work as if it were a part of your custom desktop applications? Can you add new call data fields to it with no programming required? Can you embed it in your custom applications? Can you make it "alert" other applications on your desktop about CTI related events from the switch? Can it exchange data with your other applications? Can you continue to use it if you were to move your phone system to another switch vendor?
We will continue to explore the features and functionality of ESP in the next VEXIS Voice "Envoy Updates" article and continue to address the questions above. Hang on to your seats for Part 3 of this article!
Richard Wolff, Director of Software R&D