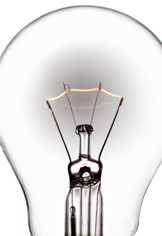 E Source Announces Top Utility IVRs
Study Finds Utilities Offer Only 54% of the Features Customers Want
BOULDER, CO, July 29, 2009—E Source is pleased to announce the top-rated U.S. electric and gas interactive voice response systems (IVRs) for 2009. They are Florida Power & Light Co., Portland General Electric, Allegheny Power, NW Natural, Baltimore Gas and Electric Co. (BGE), and South Carolina Electric and Gas. Manitoba Hydro earned the top ranking for Canadian utility IVRs. BGE has the most-improved IVR. In the 2007 review, BGE was ranked 93, but this year it moved into the top five.
These ranking are based on the "E Source 2009 Review of North American Electric and Gas Company IVRs" which examined the IVR systems of 95 U.S. and Canadian utilities. Our researchers spent a cumulative eight hours reviewing each IVR. To ensure quality control, all of the IVR features were reviewed a second time by a different reviewer. Between December 2008 and March 2009, four typical residential energy customers called the utility IVRs. They looked for and rated 13 tasks and functions that had been identified by a 2008 E Source market research study as the options residential customers most strongly think that utilities should offer on the IVR. Applying this data and a consistent methodology, E Source ranked the IVRs on an index of usability and functionality.
Maggie Boys, a senior research associate at E Source, said, "We found many missed opportunities. Utility companies on average are offering only 54 percent of the features customers want. We refer to this as a service gap—the difference between what customers want and what utilities are offering. Finding the overall cause of the service gap is an essential first step in building a positive and economical IVR experience for customers."
Eastern U.S. Allegheny Power is the highest-ranking utility in the eastern region. Other top performers include Baltimore Gas and Electric and PECO.Z
Midwestern U.S. Wisconsin Public Service captured the top ranking in the midwestern region. Peoples Gas (Illinois) and Xcel Energy round out the top three.
Southern U.S. Florida Power & Light ranks highest in the southern region. The next two highest scores were earned by South Carolina Electric and Gas and Cleco.
Western U.S. Portland General Electric earned the top rank in the western region. NW Natural and PacifiCorp earned the next two highest scores.
Canada. Manitoba Hydro garnered the highest ranking among Canadian utility IVRs. Other top performers include Terasen Gas and Gaz Métro.
"Based on some of our earlier research, we know that of those customers who use an IVR to complete a self-service transaction, 70 percent were successful in completing that transaction on the first try. However, those same customers stated that they were not satisfied with the experience," said Rich Goodwin, manager of the E Source Utility Customer Care Service. "With information from this benchmark study, utilities will know how to improve their IVRs to directly enhance their customers' experience, thereby increasing the number and the satisfaction of customers who choose self-service options."
E Source members will learn more about the findings from the benchmark study in a special web conference today. Others interested in learning about the key findings should attend the 22nd Annual E Source Forum being held in Denver, Colorado, September 21–25, 2009.
For more information about the "E Source 2009 Review of North American Electric and Gas Company IVRs," please visit the study web site.
Here is the top quartile from the 2009 Performance Ranking of U.S. IVRs. For a full list of utility rankings, please click here (68 KB PDF).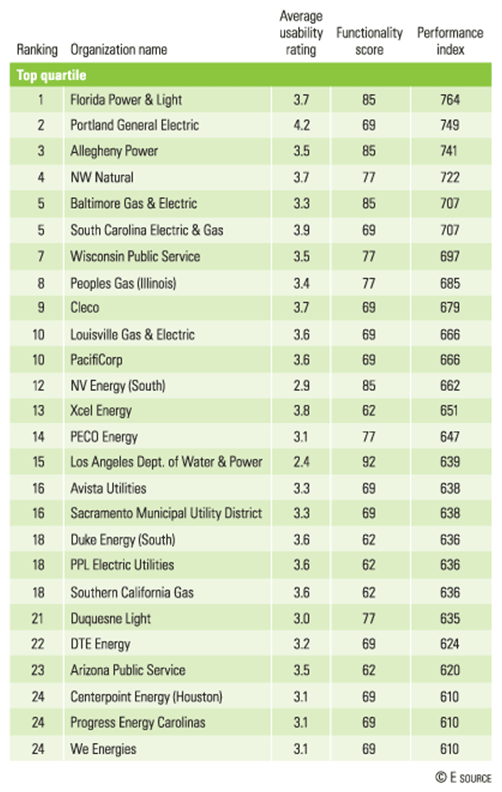 Source: "E Source 2009 Review of North American Electric and Gas Company IVRs"
Charts and graphs extracted from this e-mail must be accompanied by a statement identifying E Source as the publisher and "E Source 2009 Review of North American Electric and Gas Company IVRs" as the source. No advertising or other promotional use can be made of the information in this e-mail without the express prior written consent of E Source.